Constructed of 1/2" (13 mm) OC wire spacing with 1" (25 mm) high front truss lip and welded on brackets
Extra bracing underneath supports heavyweight merchandise, such as wine or other beverages
Tag mold is built into the construction of shelf, measuring 1 1/4"H (32 mm)
Customer-supplied signage for tag mold should measure 1.188"H (30 mm)
Load capacity 400 lbs
---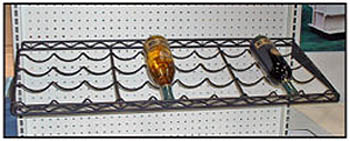 Shelf ensures corks remain wet, regardless if the cork is positioned up, or down
Positioned flat or 15 degree downtilt
13 1/4" (337 mm) Depth
Bottles can be placed top or bottom down depending on the retailer's preference
3' (914 mm) shelf can hold up to 10 wine bottles
4' (1219 mm) shelf can hold up to 14 wine bottles
Load capacity 100 lbs
---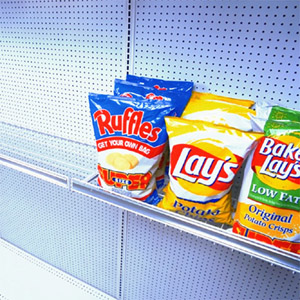 The Wire Potato Chip Shelf provides an economical way to display a variety of snack products. When combined with the Wire Utility Basket, ordered separately, allows cross merchandising with dips and salsa.
The Wire Potato Chip Shelf has a load capacity of 30 lbs.
---

Great for large bags of Potato Chips as typically seen in a Grocery Store to display large amounts of bagged Potato Chips.
One piece wire shelf available in a 48" wide X 22" deep.
That can be positioned in either a 17 degree down slope or a flat position.
2 inch lip and price tag molding available.